Huddersfield Hoax !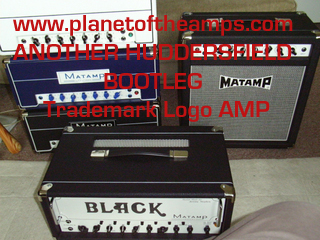 The Black 1224 post 2005 Bootleg Unit.
Out the back door without authorization or consent, color logo amps bootlegged in the UK.
This BLACK logo amp was engraved in Huddersfield England
with no authorization or license agreement regarding it's USA ownership.
The BLACK Amp logo as shown here, is a 100% trademark logo owned in the USA.
BLACK Amp, initiated in the USA during 1999 and made it's debut on the blackamps.com site.
This amplifier unit is at "Matamp London" and made for Matt Allsop,
who displays the title "Distributor for Matamp London".
As the bootleg pirated gear is archived, documented and the information is now
able to be processed from the USPTO to the country's origin Trademark office in which
the criminal act is being committed much more effective.
The progress of International Trademark and Intellectual Content violation tracking
has improved however does not stop what goes out the back door on a day to day basis.
Original and Authentic BLACK logo amps are only available
from
ELECTRIC AMP, USA
www.blackamps.com
all rights reserved 2004 and unreserved until prosecuted to a "bootlegger".