MATT PIKE - SLEEP - HIGH ON FIRE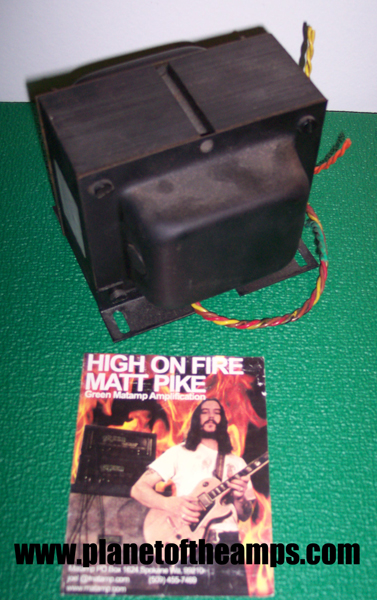 BLOWN GREEN GT 120 OUTPUT TRANNY from ENGLAND.
Matt Pike placing demand on gear, was the master of blown amps.
This tranny came from his first GREEN amp. It was removed
and repaired by MATAMP USA in the year 1999.
This stoner shot of Matt was taken in March of 1999 ,
six months prior to the first HIGH ON FIRE release on 12th Records.
It was a flyer found in CD release first pressing.

Jamming on Joel's Gibson, Green Amps and Cabs, Matt was
writing just finished writing 10,000 years and was riffing on Baghdad.
In 2001 Joel and Matt parted ways, Matt moved on to play
Soldano Amps and the riffs got faster.
Now the Greenamp line is perfected once and for all
making it the Stonerrock scene's Cult Amp and All American Made.
all rights reserved 2004 - www.planetoftheeamps.com