ORANGE Matamp Slave Unit : SERIAL No. 249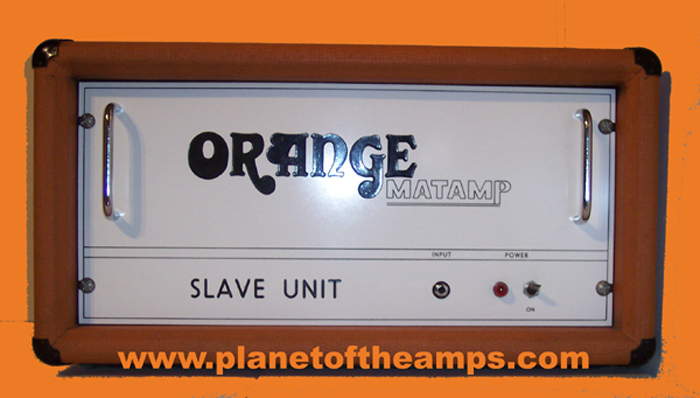 Simple High Output Tube Amplification without EQ.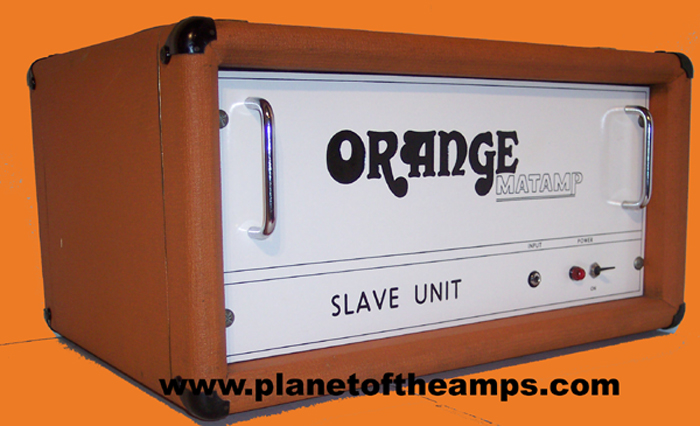 Large in size and full of amplified tube sonic bliss support !
Mat Mathias, Amp Innovator created these orange vinyde versions for ORANGE of London in 1972.
Seen in the early Musik Laden Black Sabbath Videos and Led Zeppelin footage, these units
were on stage side, and on top of cabs in Mat's special LEAD 200 version.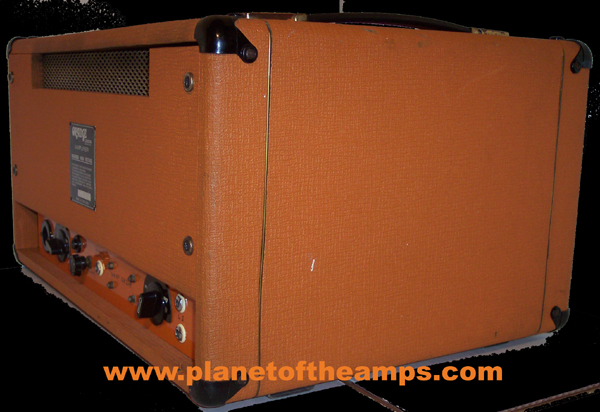 16" deep x 22" wide x12" deep at 88LBS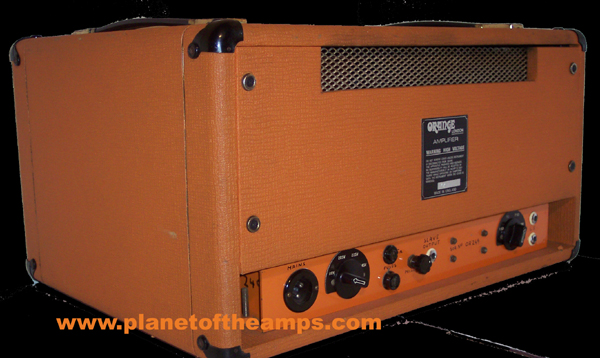 PRO AUDIO TUBE AMP SUPPLY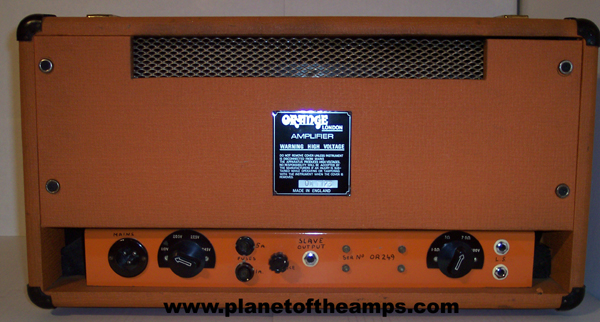 Mains - Volt - Fuse - Treble - OHM - Loud Speaker Jacks.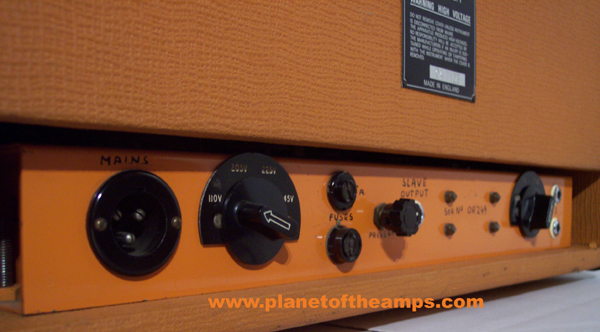 Clean and straight forward.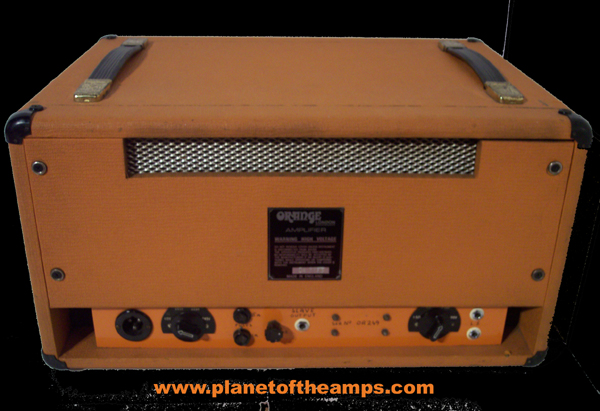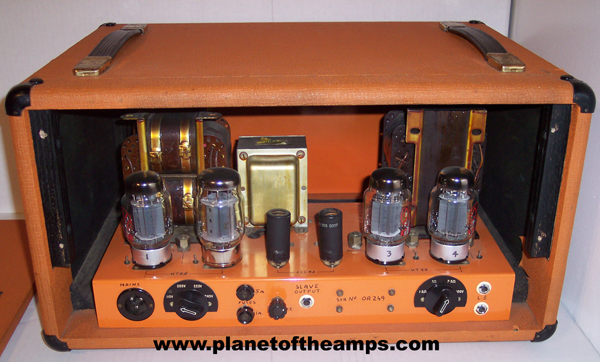 Removing the back panel reveals the KT88's and the clean layout from Mat Mathias.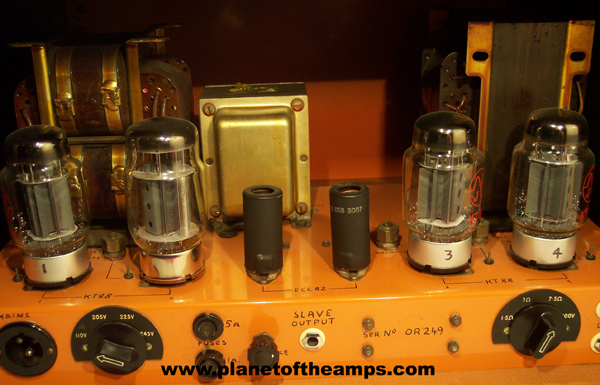 With service in mind, Mat had the bias voltage check point available on top.
The bias adjustment screw is locked down with the brass hex nut.
Changing tubes and setting bias, is a breeze and away from High Voltage.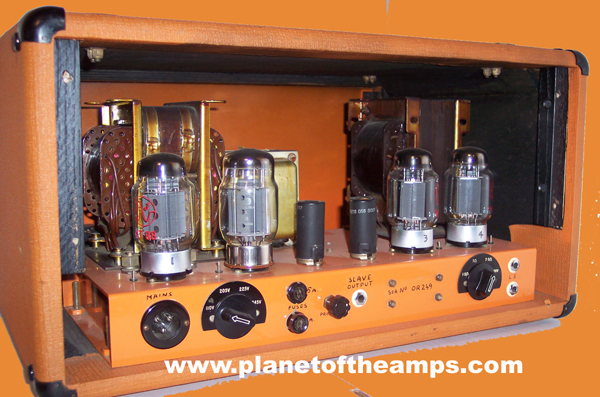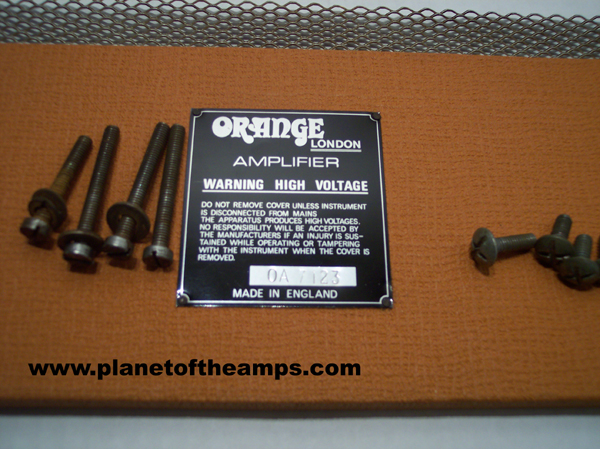 It is rare that you find an original ORANGE Matamp, let alone with all of the matching fasteners.
Mat Mathias was serious about the details right down to the last screw.
Quality parts and detailed design is the reason the pre 1989 Matamp units are still running stong.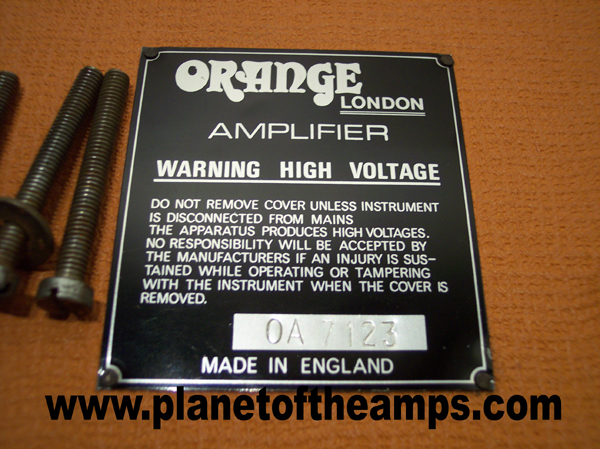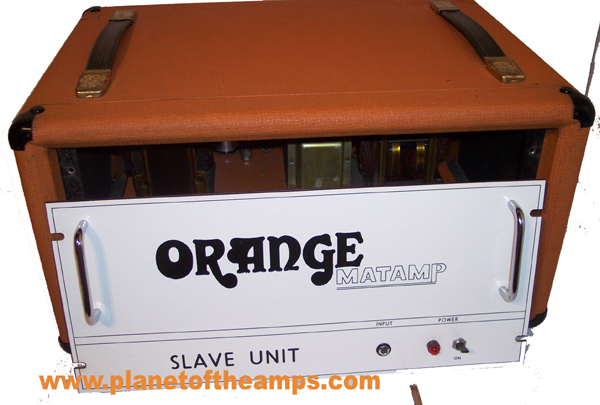 Removal of the front panel from the Amp Sleeve.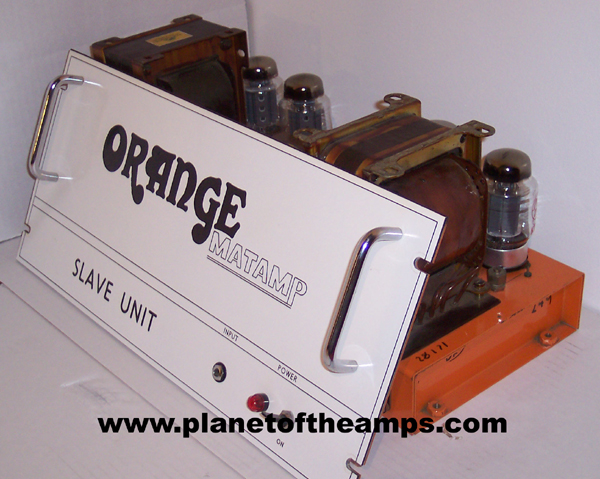 Heavy duty metal chassis, Top Notch Tranny's, Mondo Tubes Spaced well, and a great front panel
mounted seperate on 2 threaded metal rack mount rails.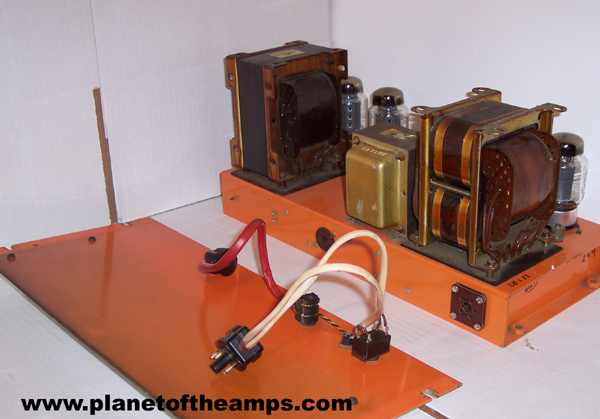 The front panel hooks to chassis with shielded 8 prong and 5 prong connections.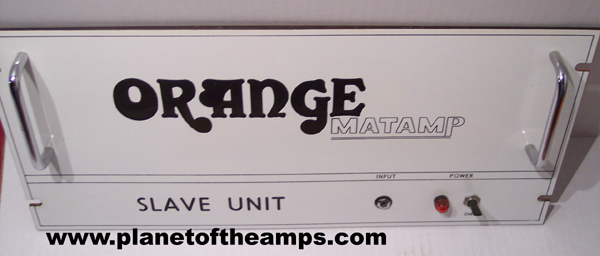 All of the parts to the SLAVE !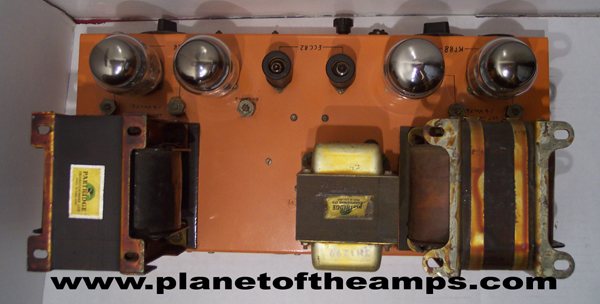 Top view illustrates the layout of artisan craftmanship by Mat Mathias.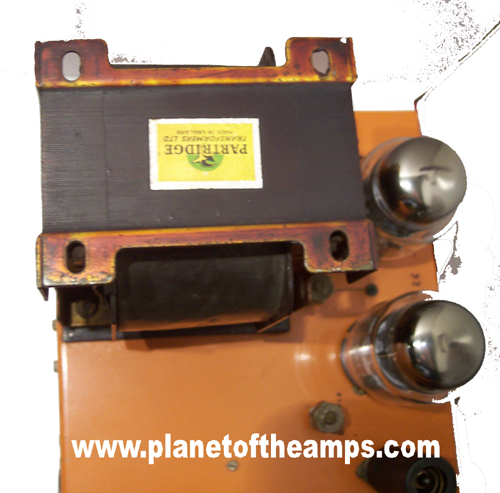 The original open-bell vertical transformers from PARTRIDGE.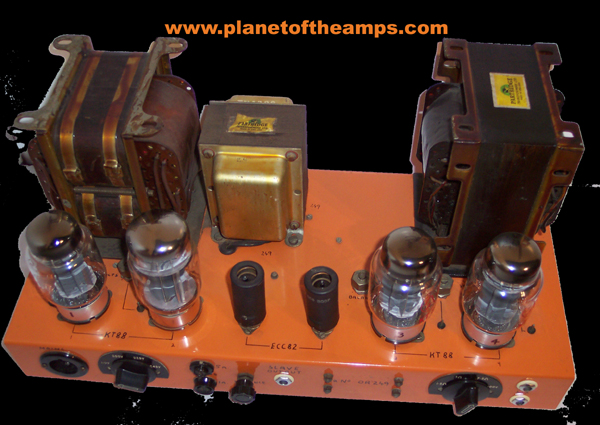 Buxom !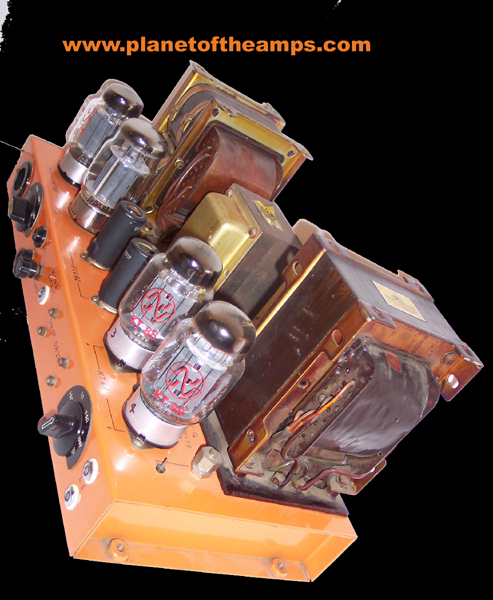 Laquer Soaked Transformers in the original fashion.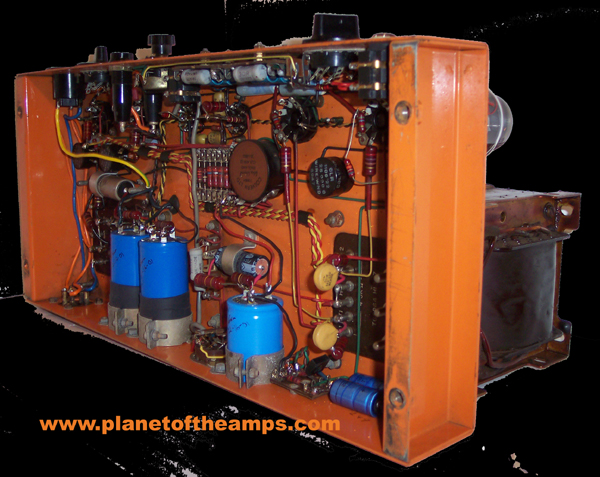 Mat closed the door in the UK with his Pro Audio Design and Craftmanship.
To date Matamp UK has not ever been able to duplicate this grade of amplification.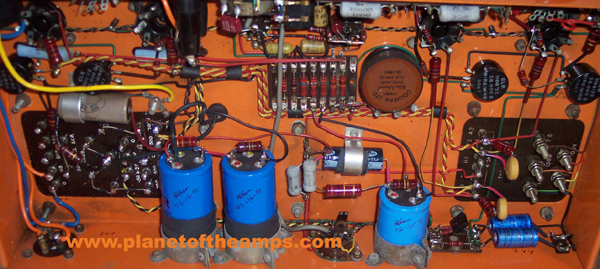 As you look at the design, you can see that Mat intended on possible service to keep these
units running for more than a lifetime.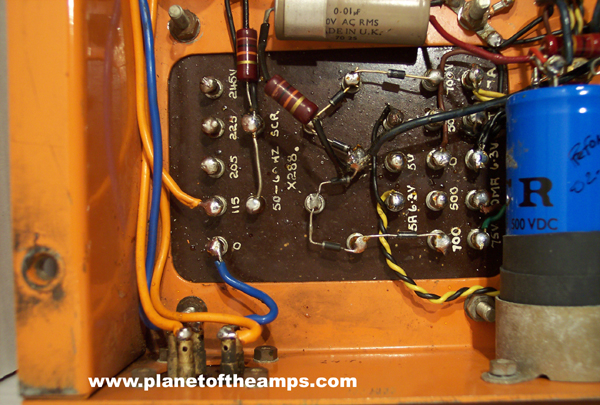 The hardwire bottom side of the transformer. Mat used open sump tranny's in his early years.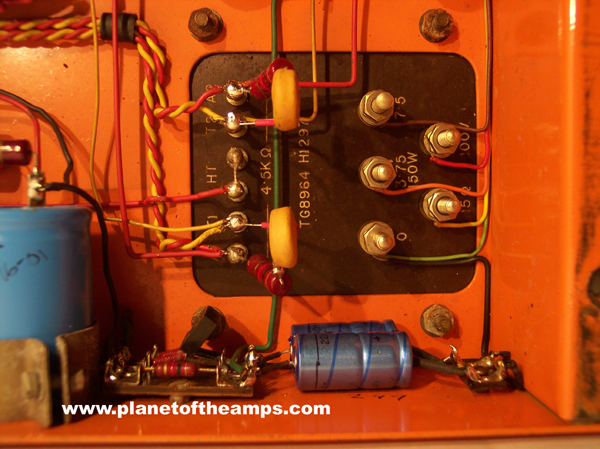 No tricks or hidden agenda. The early days of pro audio were true and for the pioneer.
Returning to this method and straight forward assembly is a lost art only seen in
a few amp units produced in today's World.

1972 ORANGE Matamp SLAVE 200:
-Well sought after and highly collectable
-Great amplifier for all any amp with Slave Out
- Use for BIG and LOUD Venues.
-Power Only Must be used with eq in front of it.
-Expect to pay alot for the working models in good shape.
-Same Unit used by Al Cisneros for bass.