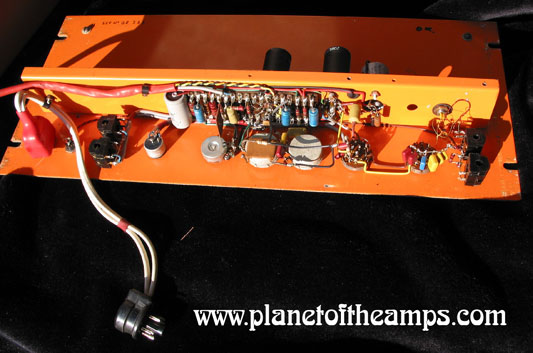 Having the panels seperate achieves many things. Service is ideal, shielding from the
voltage of the power unit is maximum too.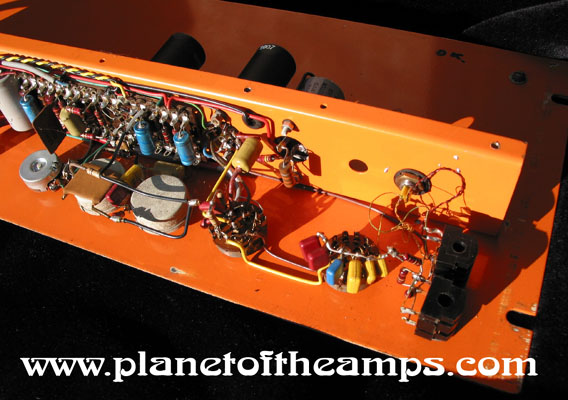 These units are a dream to play through. The circuit is quiet like a crypt until you hit the strings.
It will twist your cabinet on the ground if you don't use a chunk of carpet to secure it to the floor.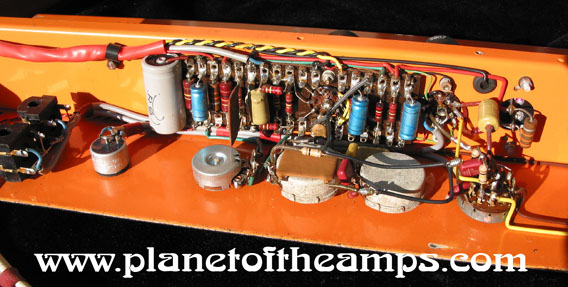 This type of craftmanship began and ended for Matamp with Mat Mathias and his original crew pre 1989. Finding one of these units is not easy. Ironically, alot of the 200watt units
are known to be owned by amp company owners that play guitar and have a collection.
A large amount of the 200watt Slave unit models where and are used by the BBC in their studios. Lots of sound men in the UK and Germany still have these and where a real operator if they had these back in the 70's. They weigh around 90lbs and are not small.
This amp will hang heavy over the cab edge in Russ Meyer leading star talent.
If you have the opportunity to buy one of these units and eat spinach you will be very pleased with the music you will make with these fine amp models. You can lose yourself
in clean tone and swear that "the great" guitar players are lurking in your hand. The distortion out of these amps is as pure as the voltage harnessed in them. This amp unit
definately requires a good technician to service. In the event you find one and buy it from the UK, you will want to take it to your tech to turn on for the first time in the USA at 120volt. Not having this amp set up right from the get go, can be a costly and
irreplaceable componet event. Once set up, you will have years of operation before the next tune up. Run this unit with 1-4 speaker cabinets and get MONDO !
1972 ORANGE Matamp Lead 200:
-Well sought after and highly collectable
-Great amplifier for all around music, for all venues BIG and LOUD Venues.
-Loud, clean and Loud Loud and LOUD and great natural overdrive.
-Expect to pay alot for the working models in good shape.
AMP BLUE BOOK VALUE:
EXCELLENT TO MINT: $2100 -4,000 unless owned by Jimmy Page
GOOD WORKING CONDITION: $1600-2100
GOOD WORKING BUT BEAT: $1250-1500
BLOWN but GOOD CONDITION: $ 900
BLOWN but BEAT: $ 400-900
2x12 SPEAKER CABINET BLUE BOOK VALUE:
EXCELLENT TO MINT: $1000 -1,550 unless owned by Jimmy Page
GOOD WORKING CONDITION: $700-900
GOOD WORKING BUT BEAT: $500-700
BLOWN but GOOD CONDITION: $700
BLOWN but BEAT: $300-700

NEED A REPAIR ? CONTACT MATAMP USA
509-455-7469
www.MatAmp.com