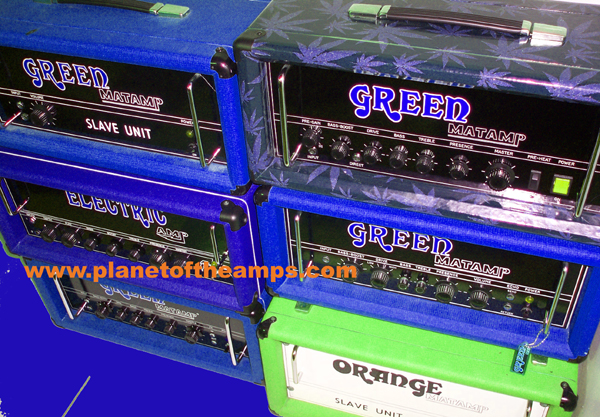 All of the colors seen.... all of the amps that have been heard.

1993 GREEN Matamp Slave Unit - Made from old pre 1978 Matamp Parts.
2004 ELECTRIC AMP, USA made in the UK on Ashdowne/Mat parts re-sleeved and paneled by EA-USA.
[The last amp MATAMP USA / EA-USA ever ordered from Huddersfield.]
1999 GREEN Matamp 80watt Master Volume Unit.
1998 GREEN Stoneramp 80watt Pre Gain Master Volume Unit made from Orange VOTW spare parts.
1994 GREEN Matamp GT120 - Made from an old 1972-78era Matamp GT 120
1972 ORANGE Matamp Slave 200 100% original the way Mat made it during that era.