WHITE PRO AUDIO SOUND STAGE 1968-1974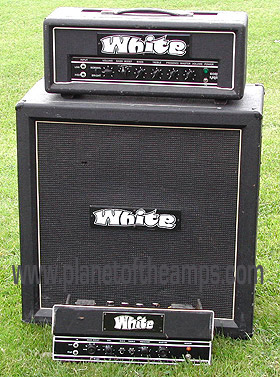 The word WHITE is suppose to resemble a WHALE.
Other promotion for White shows it more obvious.
Mat Mathias made these units for a Northern England Pro Audio
Sound Company. The gear was not "white" in color just with
the WHITE Whale logo. Inside these units a familiar GT-100/120
era Matamp exists. Minus the chrome chassis handles the front
was taylored with a wood upper covered in black basketweave.
It is a very tuff look. If you live near the ocean, this would be the
ideal unit to spout your tone from. They go for moderate price
even though they are rare in the USA. The market is soft on
these due to the unfamiliarity and used-beat to crusty condition
typically found.
An original Mat Mathias Hand Made unit is a worthy unit even
not working condition.
If you see one, GRAB IT ! It can be made into a real tone monster !
all rights reserved - www.planetoftheamps.com