This RED 2 Chan has had a few owners in the USA !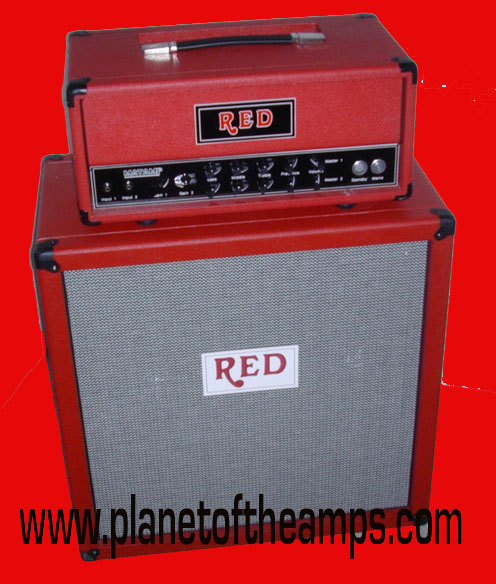 Mini Speaker cabinet from Huddersfield UK is a recent [2007] arrival to the USA
for this 6-7 year old RED 2 Channel Amp.

RED Amp logo is a 1999 USA Trade Mark Owned Logo.
The first versions were made in the UK for MATAMP USA and debut on www.matamp.com
After 2005, the USA Logos were suppose to cease in the UK, as they are 100% USA Owned.
Considering the RED amp was made from Ashdown parts stock, it is doubtful to expect
regard for TM's and LOGOS.
Back in the mid 90's the same outfit was notorious for old crusty amps covered in Green.
Then in the later part of the 90's Matamp UK made use of ORANGE parts
The millenium kicked off with all sorts of different Matamp's on Ashdown chassis and design.

Here illustrates, by this recent arrival to the USA of a bootleg RED logo badged mini
4x12 cab from Huddersfield UK.
The US Patent Trademark Office recently had their Global conference with several seminars
dealing directly with these type of infringements.
Intellectual Content, First In Use and Trademark Laws were outlined.
A slide show of several USA Trade Marks illustrating the bootleg production in the UK
was submitted to the USPTO in 2006 by two USA Pro Audio Corporations.
In 2007 US Customs and the Attorney General of Michigan were contacted to begin investigation
on bootleg import logo items into the USA .
Authentic RED Amp logo items are legally available only from ELECTRIC AMP, USA
It sucks to see a cool company's logo mounted on a mini glued & stapled, plastic handled,
generic import box. The best that we can hope is they might have loaded
some USA Speakers in it.
all rights reserved 2007 www.planetoftheamps.com