THIS IS NOT A COMPARISON !
This is a L@@K at the vast differences in design, build and quality.
What is the TRUE Drive and Force behind the GREEN AMP since 1998?
Take a L@@K and find out.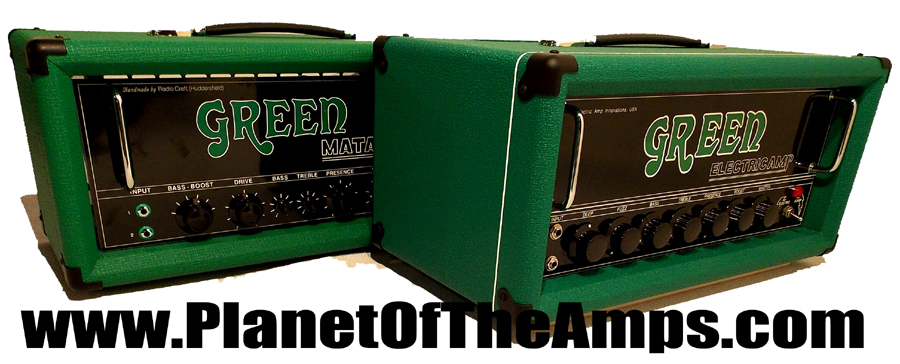 2017 Matamp UK built in the month of May & The GREEN Electricamp, USA MV-120.
In March of 2017 Matamp UK announced on their web site "the return" of the GREEN Matamp.
After 12 years of absence, Matamp UK's Jeff Lewis ignores IP Law and advertises his
bold infringement upon the GREEN Electricamp logo and amp by "passing off" cheap built replications
of the USA company's Green Amp, USA products that have been available
Since 1999 via www.greenamps.com
The Original Source for GREEN Amp products still to this day in 2018.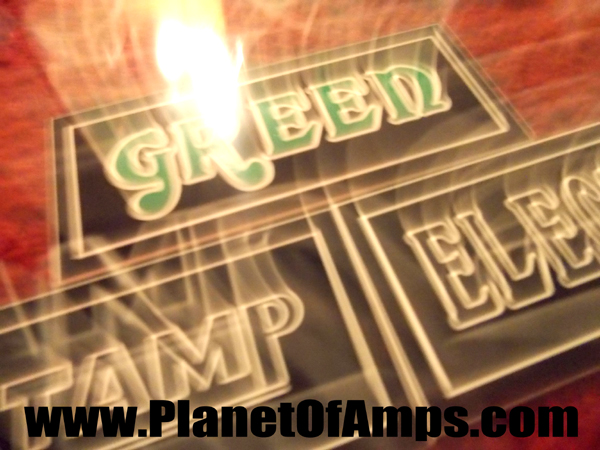 Who owns the GREEN logo & it's Intellectual Property?
If you guessed Matamp UK you guessed wrong.
For detailed information view the links at the end of the article for GREEN Amp History.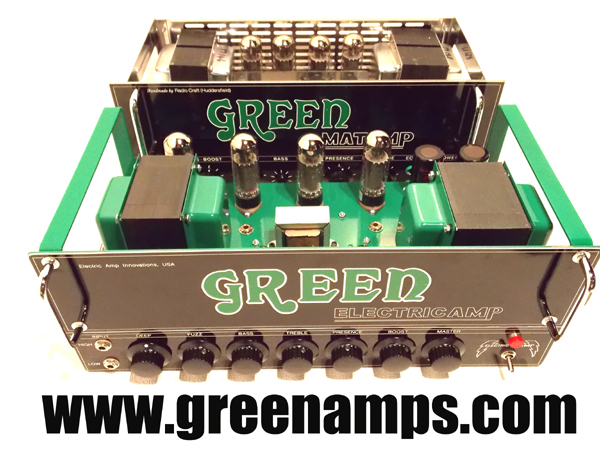 In 2005 the GREEN Amp UNITS began production in the USA.
13 Years later, they are still built exactly the same with even more skill level advancement
from the hands on experience for over a decade.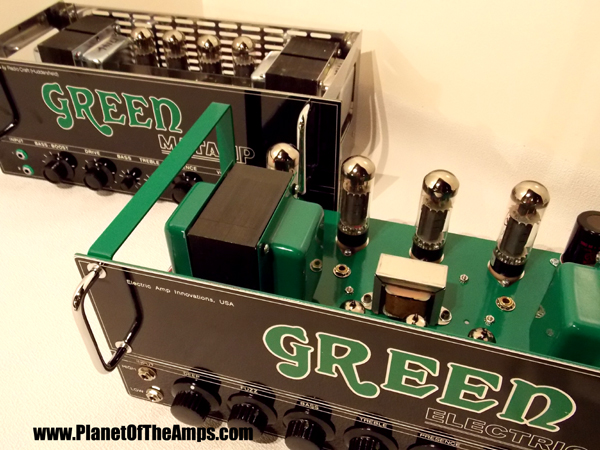 GREEN Electricamp USA:14 Gauge Steel Chassis Amp with 12 Gauge Roll Bars.
Amp Chassis is powder coated GREEN and tubes are spaced beyond spec for high performance heat dissipation.
Transformers are mounted up front and vertical to permit non-conflictive space to the tubes.
GREEN EA-USA MV-120 has 7 knobs including FUZZ [gain] and a MASTER making it a "true" Master Volume Amp.
The Electric Amp USA unit is larger front to back and built like a tank.
MATAMP UK: 20 Gauge Stainless Steel Chassis with a TON of Flex.
Standard UK made chassis found in assembly line style amp manufacturing UK / CHINA / KOREA / VIETNAM.
The chassis has a "fence" of sharp metal that surrounds the top of the chassis.
Tubes are crowded and cramped next to the horizontal transformers.
This amp claims to be a "Master Volume" but is built the same as the GT-120 6 Knob, minus a click switch.
The click switch is replaced with a potentionmeter to represent a master volume amp in poor fashion.
Feels very very very flimsy, and looks like a dozen other China Made UK Amps in production at Guitar Center.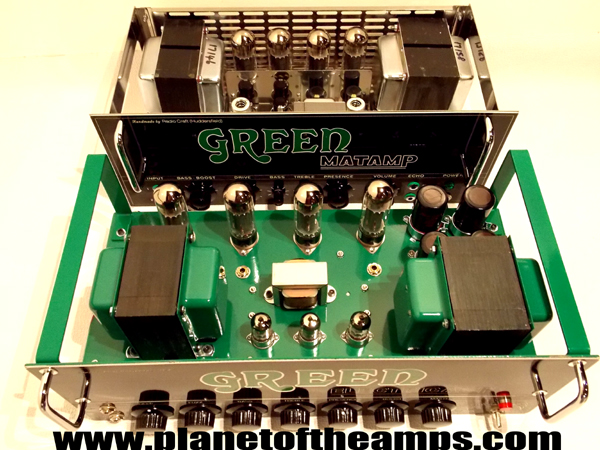 The GREEN Electricamp is very friendly and easy to handle/service but very heavy.
Matamp UK product is WAY lighter, but the metal fence on the top of the
chassis will just about take your fingers off it is so sharp. Horrid Amp to service.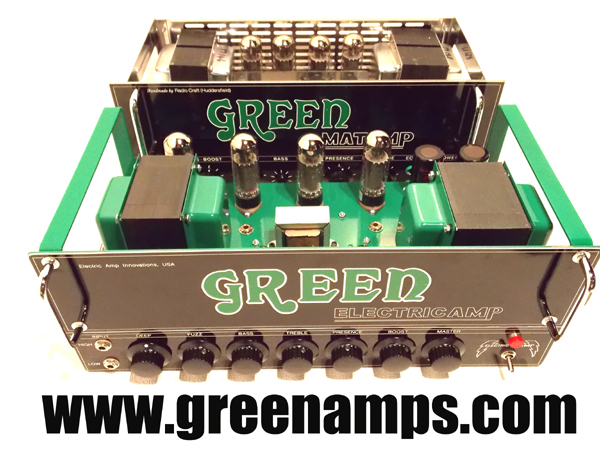 GREEN Electricamp, USA
It is a serious bold amp that has been consistantly made the same in The USA since 2005.
Prior to that, it took a 12 years study of repairs and design of imported versions to get there.
It is an evolution of a guitar playing and an amplification reliability vision quest of how to attain
a specific array of sounds night after night.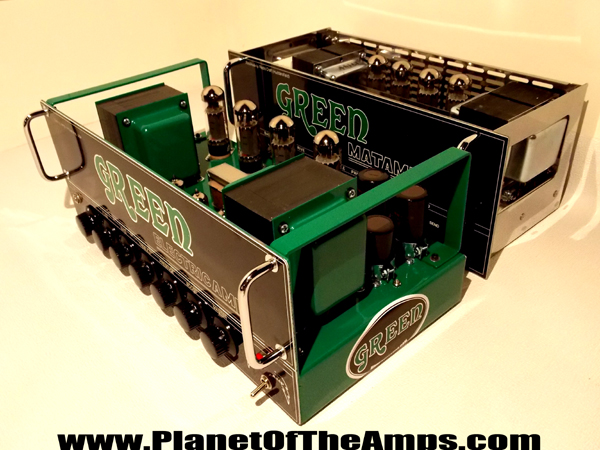 The Matamp UK amps are known for blowing the Demeter Output Transformers due to many
design flaws of the amplifier. The 2017 Matamp UK amps will be a serious chore just to remove
and replace the transformer. Drilling out the side blades rivots, removing layers of PC Boards etc.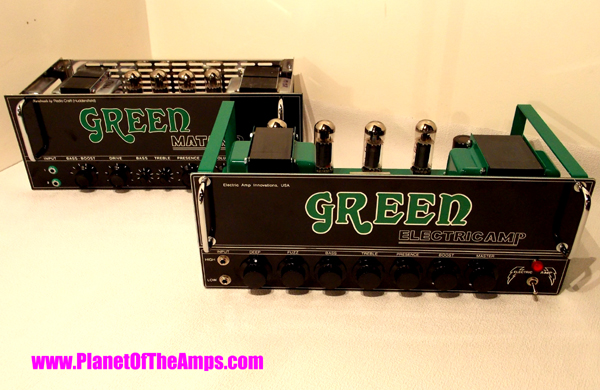 Same width side to side.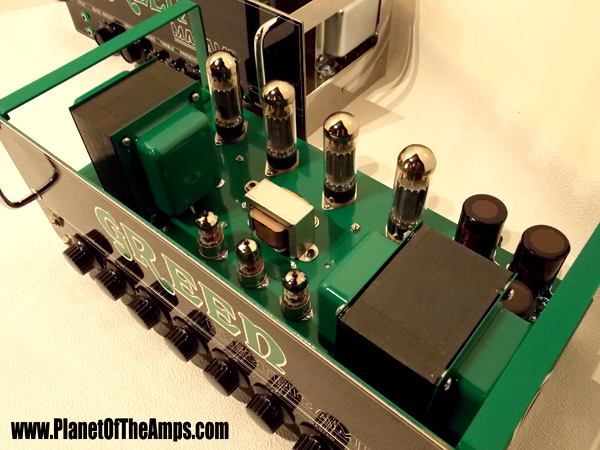 GREEN Electricamp, USA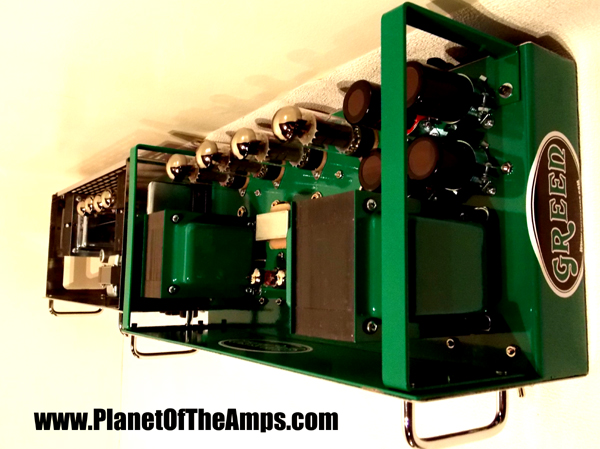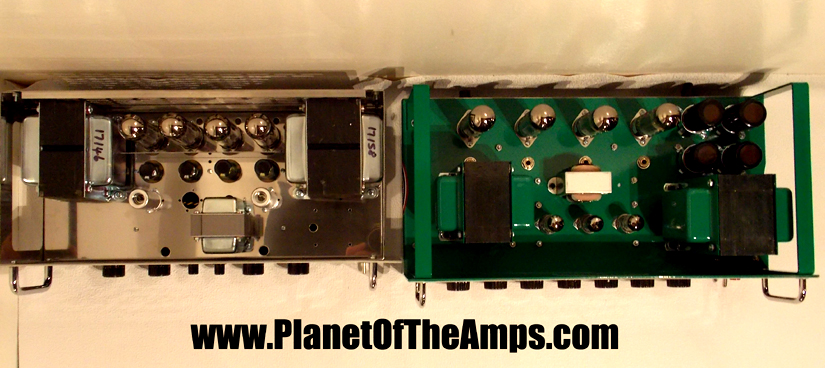 Matamp UK version is a great way to cook tubes to their death in the stainless steel oven.
It looks like they attempted to build an original MATAMP GT-120 but tried to make a computer to post fake news online too.
Amplified Computer guitar simulator device.
GREEN Electricamp USA is clean and efficient as hell.
Heavy Metal, great layout and ready for decibel combat day in, day out and night after night.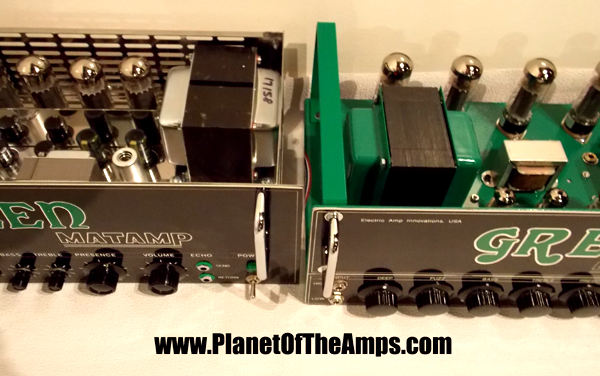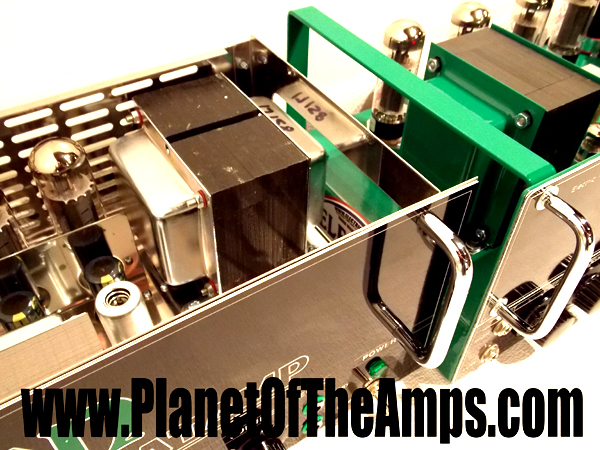 Nothing but PURE ELECTRIC AMP INNOVATION, USA on the GREEN CHASSIS.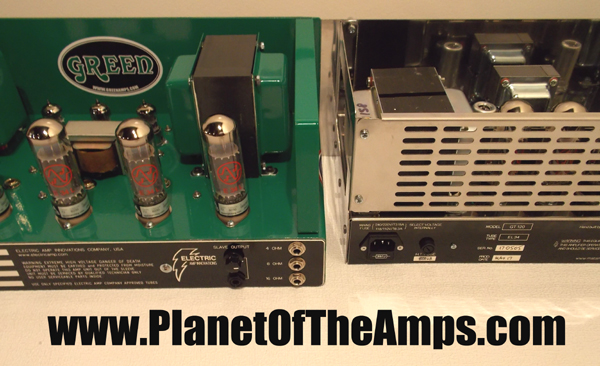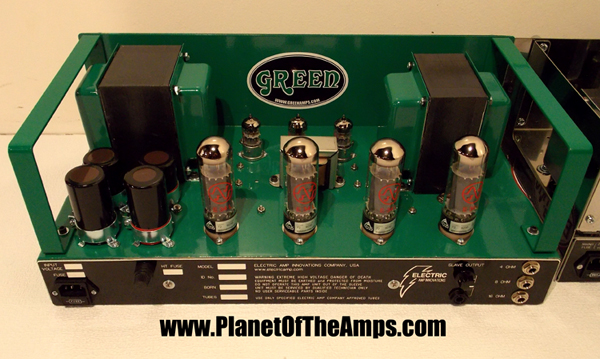 GREEN Electricamp, USA ~ www.greenamps.com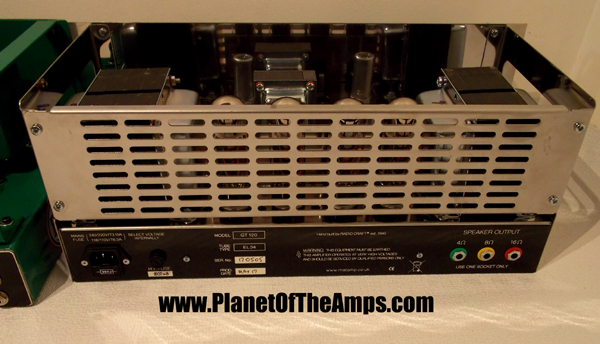 MATAMP UK ~ REALLY ?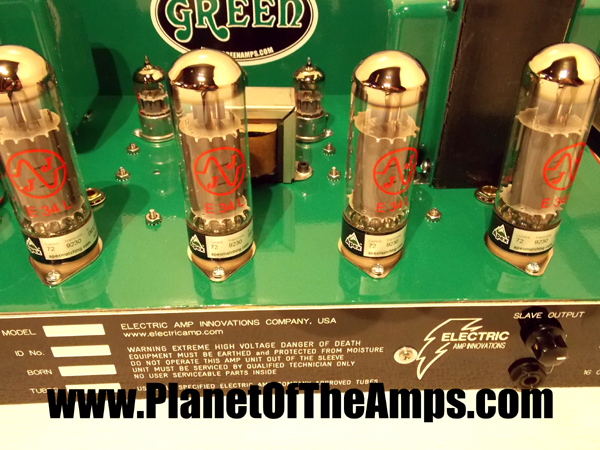 GREEN Electricamp, USA ~ www.greenamps.com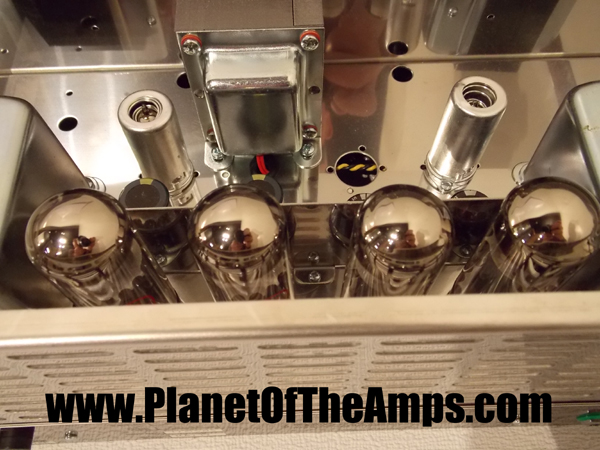 MATAMP UK Mass Production Unit.
The polished thin metal chassis has a fresh even look that is nice.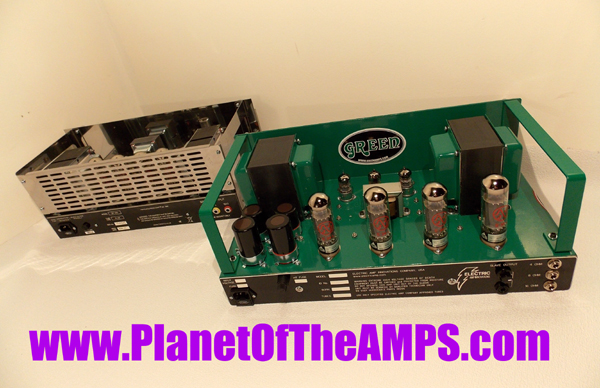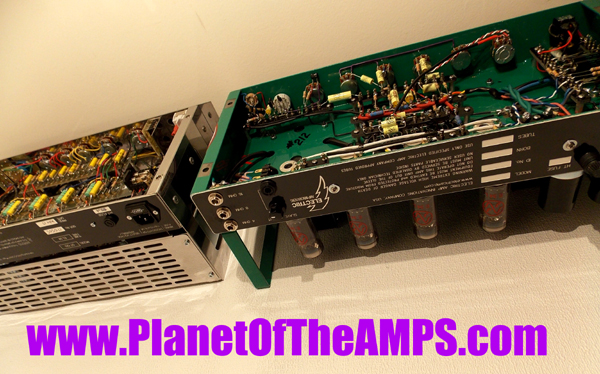 These AMPS really don't look anything similar to eachother NOW!
The Matamp UK amp is full of PC Boards, funky Microsoft type computer components and full of FLIM-FLAM.
The GREEN Electricamp, USA Amp Unit is just turret boards, hardwire and high quality components.
NOW!
Let's take an even closer LOOK !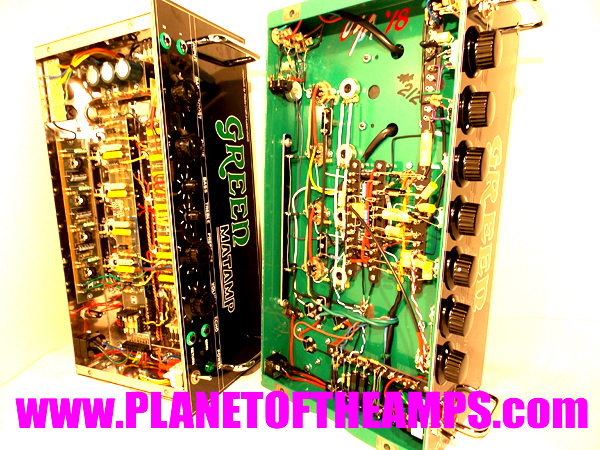 MATAMP-UK PCB AMP / GREEN ELECTRIC AMP USA HARDWIRE TUBE AMP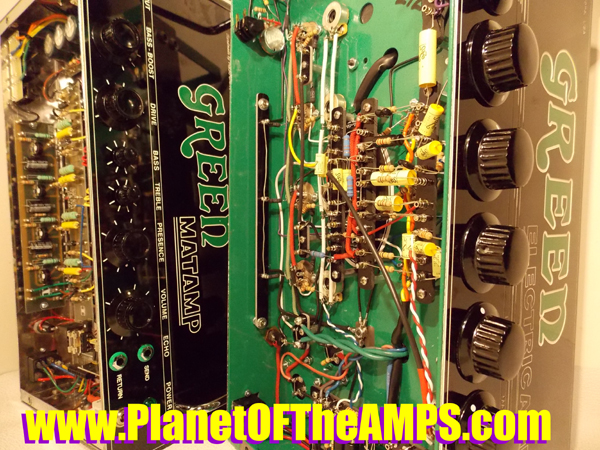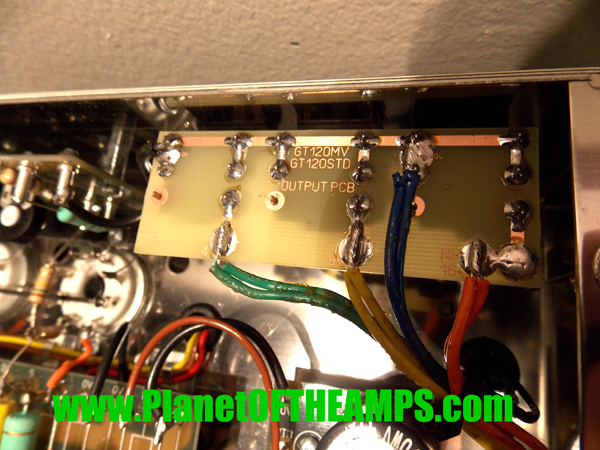 MATAMP UK ~ Inside the amp it states in English Text"PCB" [printed circuit board]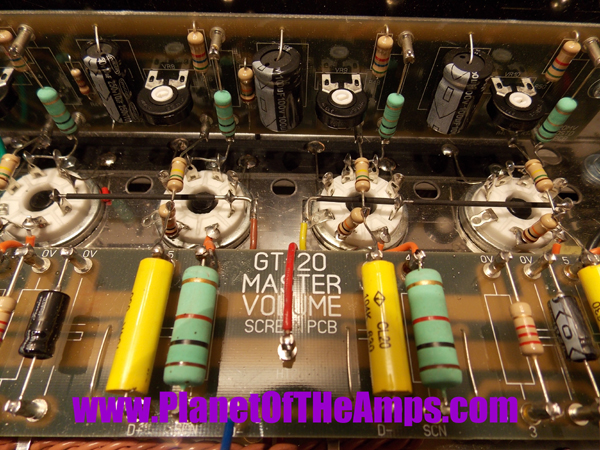 MATAMP UK: Yes, another mass production PCB [PRINTED CIRCUIT BOARD]
Very low quality valve bases and components.
Here will be the first repair and modification.
The heat from these UK amps is VERY high, not insulated and zilch for vented air flow.
When this amp is upright and in it's chip board amp sleeve the screen PCB gets hot, then
the caps and resistors fall out of the fork end poles that are in the PC trace.
This has been a common problem since 2005 with Matamp UK and prior when they
initially started using the Ashdown Chassis [click to view]
and layout to mount their front panels on.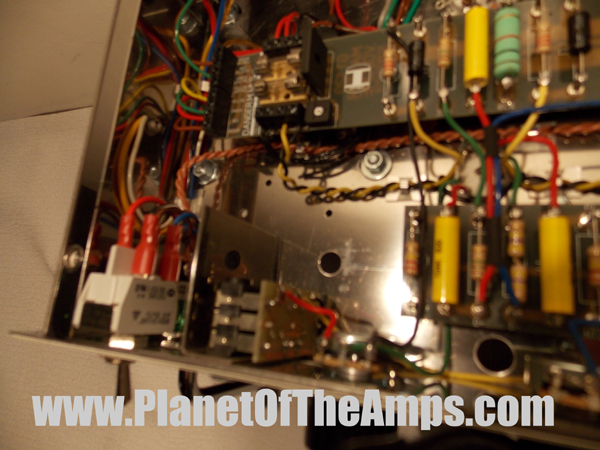 MATAMP UK ~ L@@KS LIKE a COMPUTER !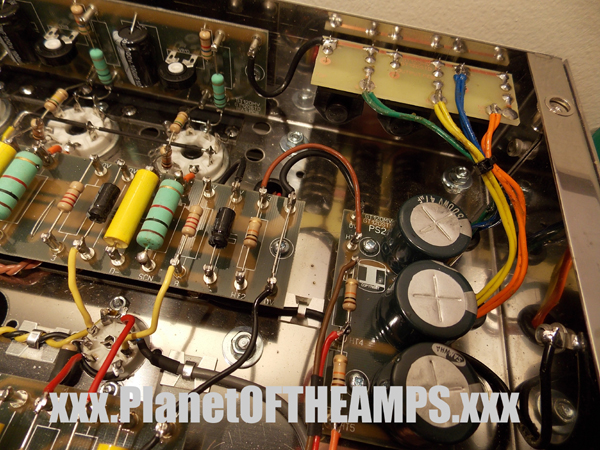 MATAMP-UK-PCB:
+CHINA+KOREA+UK+OUT-SOURCED-+VIETNAM-AMP-UNIT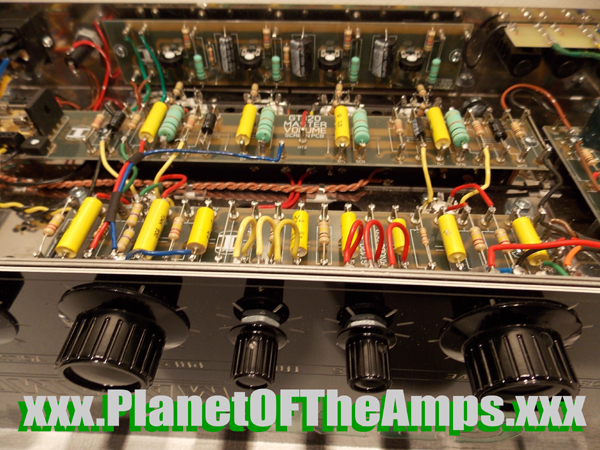 MATAMP UK ~ PC BOARD AMP UNIT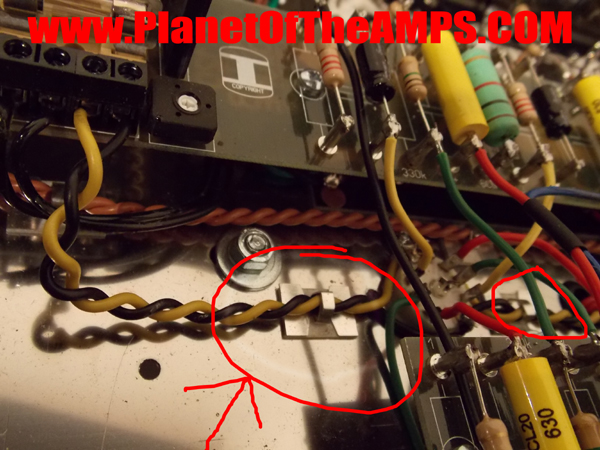 Aluminum 3M sticky wire placement tabs are abundant in the Matamp UK amp.
Between heat & time [around 12 months] these tabs dry out and fall off of the chassis.
This creates all sorts of issues and repairs.

---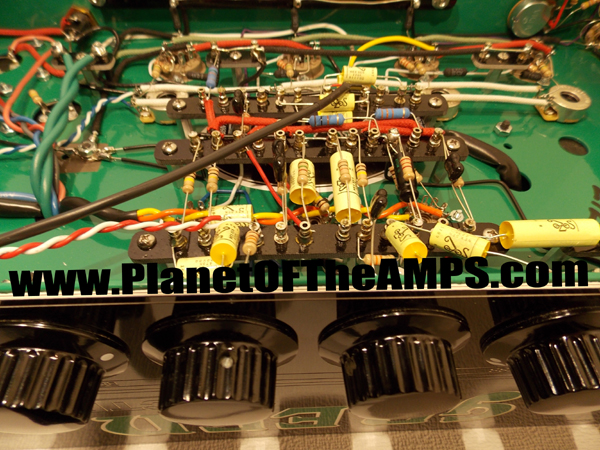 GREEN Electric Amp USA ~ hardwire, point to point tube amp.
Real double turrets pressed into turret boards rated at 600F.
Wire and componets are wrapped around the turret then welded.
Hardwire rated at 300 F and components rated at 300-600F.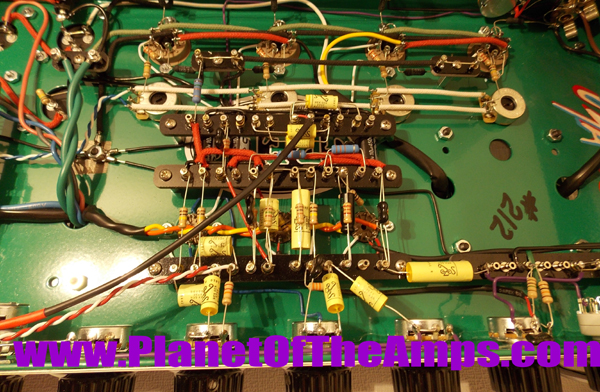 GREEN Electric Amp USA ~ Hand Made Tube Amps in the USA.

---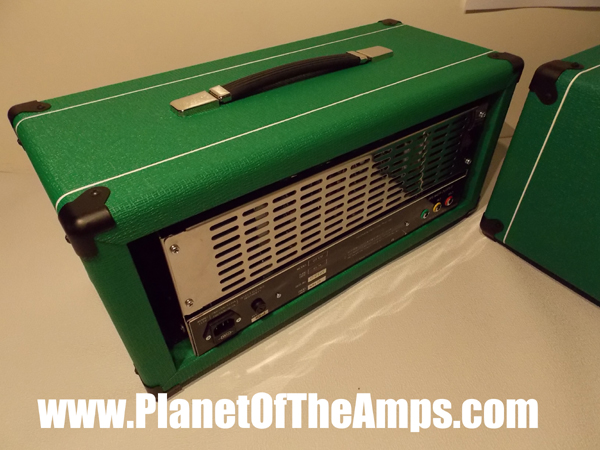 MATAMP UK ~ 2017 "WTF?" Amp Unit from Behind !
A person could be fooled by the front of the amp of possibly being a green amp,
but when you look at the back side it is like pulling the curtain back on The Wizard of Oz.
Looks like an Orange Tiny Terror / Made in Korea & China
---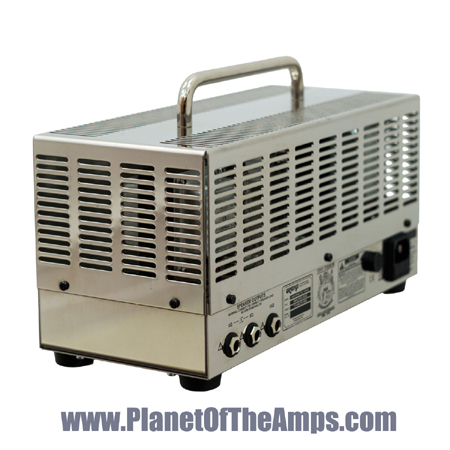 The back of an ORANGE Tiny Terror amp made in Korea
$149 - $329 PCB Amplifier
[ Fantastic Little Amp and priced right to sport that old ORANGE logo.]
---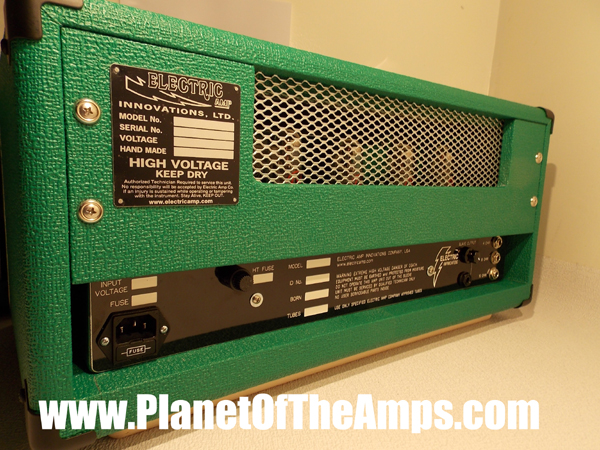 GREEN Electricamp, USA ~ www.greenamps.com
The back of the amp is guarded/protected by being recessed in the amp sleeve.
Traditional 1958-1978 ERA L@@K with Plenty of Ventilation out the back
---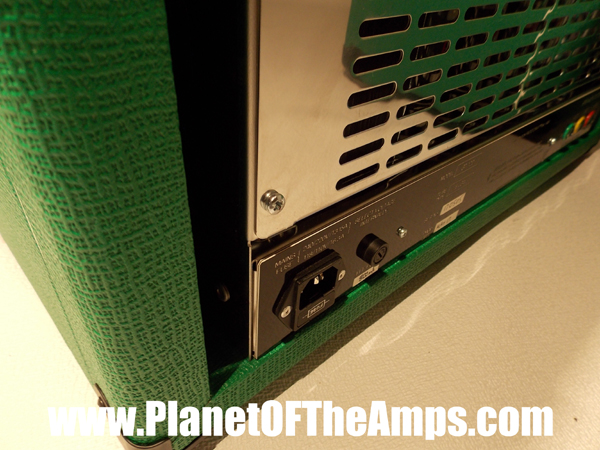 MATAMP UK
Every Component on the back of the chassis is subjected to being shaved off
during production, shipping, the owner or a gear tech. Destin to be broken by design.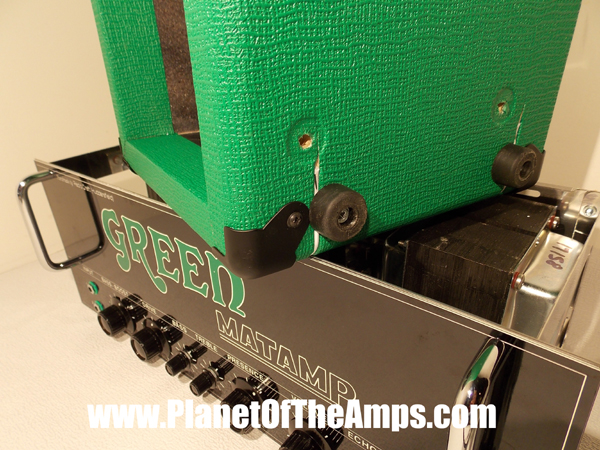 MATAMP UK ~ The Chip / Particle / Scrap Board Amp Sleeve with Rubber Feet.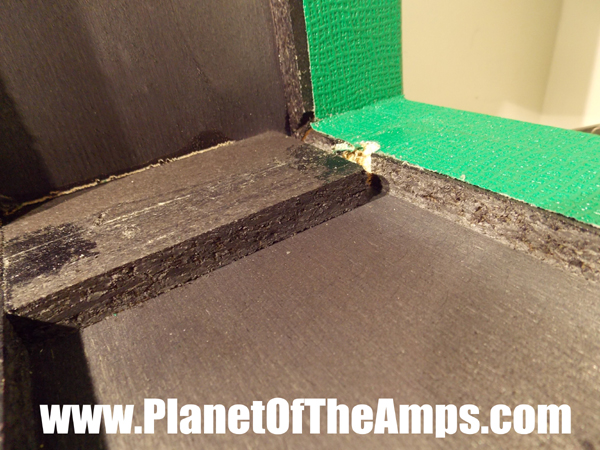 MATMAMP UK 2017 L@@KS like and IS partical scrap board and pine.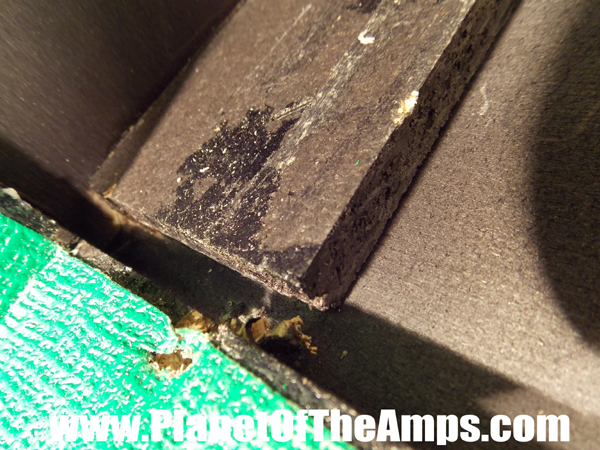 MATAMP UK ~ WTF
"Opps my drill went drift and that board I cut to short ain't gonna cover it up."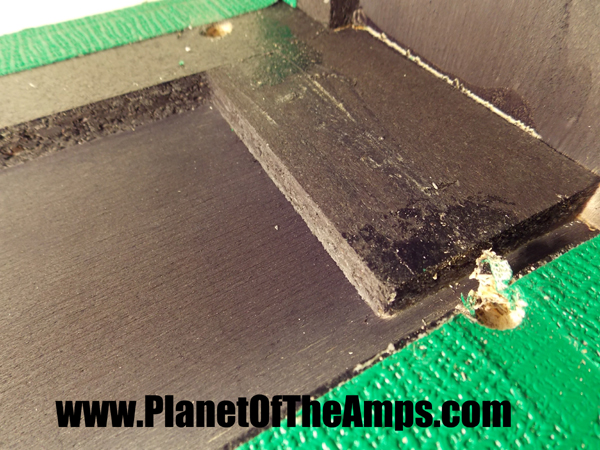 MATAMP UK: The wood choice really made this amp even lighter !
---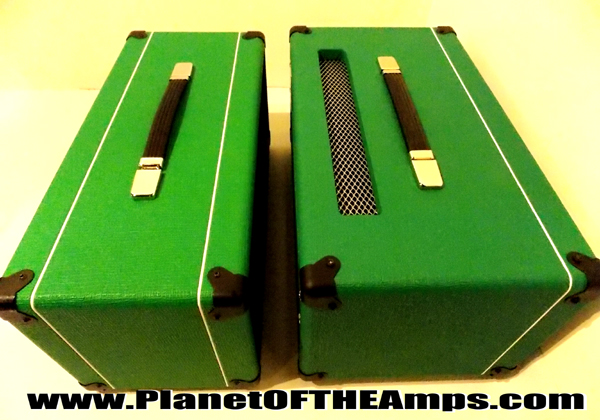 MATAMP UK ~ NO VENT / GREEN Electricamp, USA ~ MONDO VENT #2 !
[ heat rises ]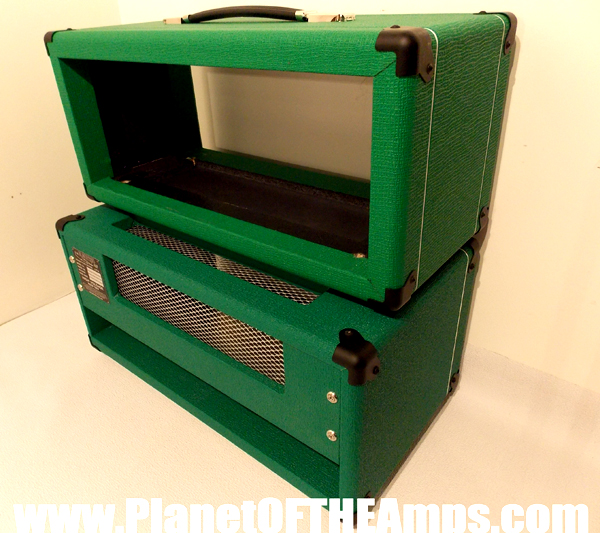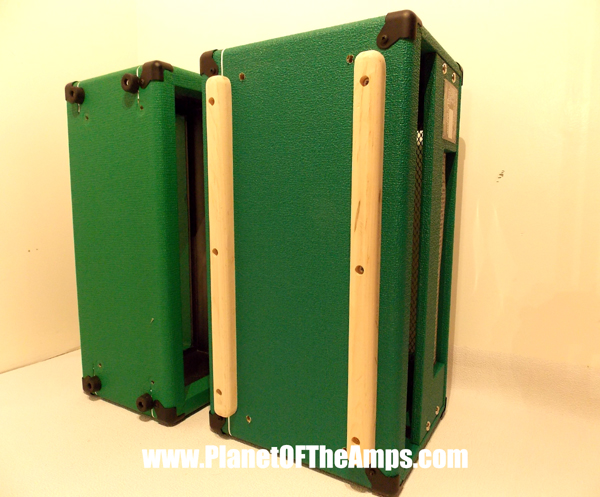 MATAMP UK : Much Smaller Cabinet / Amp Sleeve to stifle and contain heat.
Rubber feet will be lost after 4 Shows for a working band/musician.

GREEN Electricamp, USA : Large Cabinet / Amp Sleeve to circulate air and keep amp cool.
Large maple skids are designed to absorb vibration and moisture.
Electric Amp USA amp units are designed to be stacked NEXT to their cabinets
that they power for vibration free performance to the amp units,
however max/mondo vibratory projection of tone.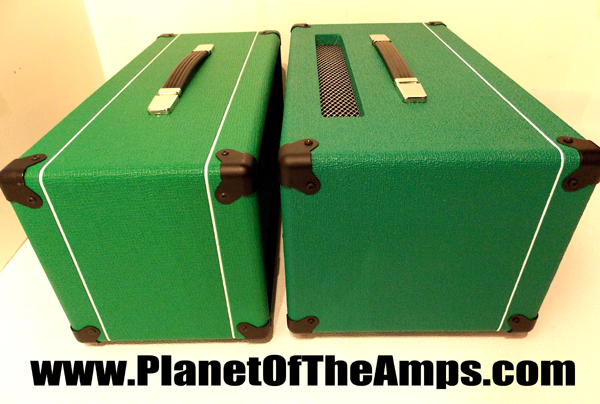 MATAMP UK ~ GREEN Electricamp, USA
There is a way to be and not to be.
It L@@Ks like Electric Amp USA chooses "to be"!
Amazing high quality builds for over a decade.